Regular price
$23,500.00
Sale price
$23,500.00
Unit price
per
Sale
Sold out
Please beware this product is a special order, plan on 4-6 weeks for delivery.
QHY990/991 Series are scientific short wavelength infrared cameras. With Sony IMX990/IMX991 InGaAs sensor, a square 5um*5um pixel array and 1.31M/0.4M effective pixels. The chips have wide waveband (0.4um-1.7um) with high sensitivity. QE is up to 77% at 1200nm.
By using the Cu-Cu interconnect technology, the sensor has very low FPN noise and a low defect pixel ratio.
QHY990/991 Series cameras include 25mm filter holders. 25mm filter is a very common filter type for lab applications.  The SWIR filter can be easily installed on the camera with a 17.5mm C-mount B.F.L.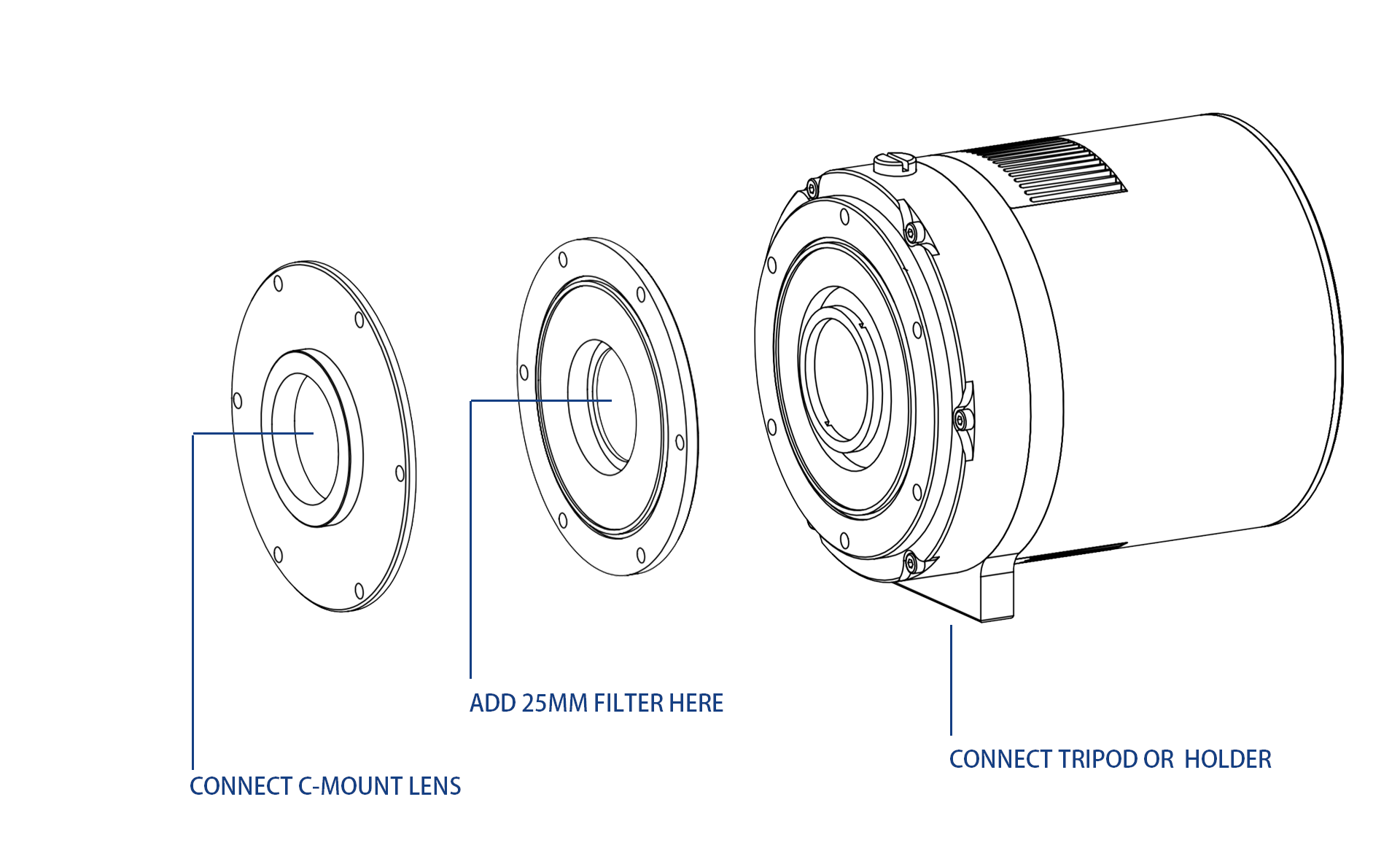 QHY990Pro II have both air cooling and liquid cooling version (customization).  The air cooling can get the -35C below ambient. The liquid cooling version can get -45C below ambient with normal temperature liquid and can get -60 to -80C below ambient with cold liquid.  Typically, the InGaAs sensor has a high dark current than Silicon-based material. If you need long exposure (eg. >5 sec), we recommend the liquid cooling version.
Specifications
Model
QHY990
QHY990Pro II
QHY991
CMOS Sensor
Sony IMX990
Sony IMX990
Sony IMX991
FPA Material
InGaAs
InGaAs
InGaAs
Pixel Size
5.0um*5.0um
5.0um*5.0um
5.0um*5.0um
Total Pixels(includes optic black pixels)
1392*1052
1392*1052
752*520
Effective Pixel Area
1296*1032
1296*1032
656*520
Effective Pixels
1.3 Megapixels
1.3 Megapixels
0.4 Megapixels
Effective Image Area
1/2 inch
1/2 inch
1/4 inch
AD Sample Depth
12-bit A/D
Shutter Type
Global Shutter
QE
77% @ 1200nm
Full Well
Typical 120ke-
Readout Noise
The measured data is after Bias Frame FPN calibration Typical 150 e- at lowest gain
Typical 50e at a middle gain
Typical 20e- at high gain
Frame Rate
66FPS@Full Resolution 12bit137FPS@480Line 12bit
256FPS@240Line 12bit
518FPS@100Line 12bit
925FPS@40Line 12bit
1150FPS@20Line 12bit
USB3.0
66FPS@Full Resolution 12bit137FPS@480Line 12bit
256FPS@240Line 12bit
518FPS@100Line 12bit
925FPS@40Line 12bit
1150FPS@20Line 12bit2*10G
TBACameraLink
TBA
133FPS @ Full resolution 12bit254FPS @ 240Line 12bit
510FPS @ 100Line 12bit
700FPS @40Line 12bit
830FPS @20Line 12bit
Trig Function
One Hardware Trig-In Socket (RCA type).Opto-isolated
Computer Interface
USB3.0
USB3.0
2*10Gigabit Fiber Optic Interfaces
2*CameraLink Interfaces
USB3.0
Lens Interface
C-Mount
Telescope Interface
1.25inch Adapter
Basic Interface
Flange with 6-M3 screw holes
25mm Filter Adapter
Support D=25mm and D=25.4mm filter
Back Focal Length
C_Mount,1.25inch adapter
17.5mm with 25mm filter adapter, 14.5mm without filter adapter
Basic Interface
12.5mm
Liquid Cooling
–
Supported (Customization)
–
Cooling System
Dual Stage TE Cooler-Air Cooling version
Maximum -35C with ambient(Test temperature +20°)
Dual Stage TE Cooler-Air Cooling version
Maximum -35C with ambient(Test temperature +20°)Liquid Cooling version
Maximum -45C with ambient by using normal water
-60C to -80C with ambient by using cold liquid
Dual Stage TE Cooler-Air Cooling version
Maximum -35C with ambient(Test temperature +20°)
Recommended flow rates for water-cooled versions
–
1.6ml/s
–
Body length
92.5mm
92.5mm
Weight
About 520g
About 1000g
About 520g
Share
View full details